Guitars
While Chad has an impressive collection of guitars, he recently reported that he's been carrying at least these four on tour. See pictures below.
- a Sunburst Les Paul (seems to be his main guitar, as played on Simple Creed, The Distance, All Over You and others)
- a Cream colored Fender Stratocaster (as used on Lightning Crashes, The Dolphin's Cry and White, Discussion)
- a '60s Fender Jazzmaster ("Ruby Lou", currently used only on Lakini's Juice)
- a National Dobro (I believe he uses this on Like a Soldier)

According to a fan at the Asbury Park show in August 2002 (thanks Josh), Chad was using a Gibson Chet Atkins on Call me a Fool. I'm not sure if this is the same 2002 Chet Atkins Signature Model (in black) Chad used during the November 2002 shows on Voodoo Lady.
The early 60's Jazzmaster "Ruby Lou" was Chad's first vintage guitar. It was stolen in October, 1999 in Florida and reappeared in Florida almost exactly 2 years later. Chad has a brass bar screwed into the plate behind the bridge, which forces all the strings down and makes them sit tighter in the saddles. This makes the guitar play a lot more like a Strat.
Other guitars include:
- an early 50's Martin, previously owned by Bob Dylan, which he played on MTV Unplugged
-'56 Les Paul (Freaks)
-'70 Les Paul (Chad's first guitar, given to him by his father on his 10th birthday as it was made the year he was born)
-'65 Fender Stratocaster (Heropsychodreamer)
- Fender Custom Shop Bajo Sexto - a 6-string bass used on Merica
- Danelectro Coral Sitar (Unsheathed)
- a '57 and a '59 Black Les Paul Custom
- Gretch Duo Jet
Chad has other Stratocasters and Les Paul's but specifications are unknown at this time.
Guitars from the studio: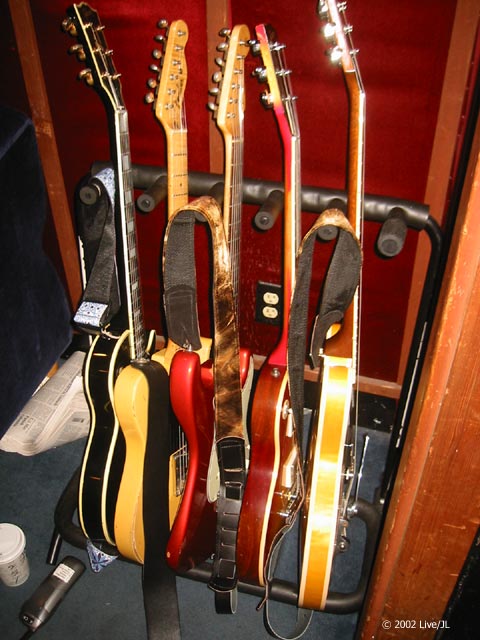 Guitars as brought on tour:

From front to back: a Gibson Les Paul, Fender Telecaster, Fender Stratocaster, and a Takamine Acoustic guitar.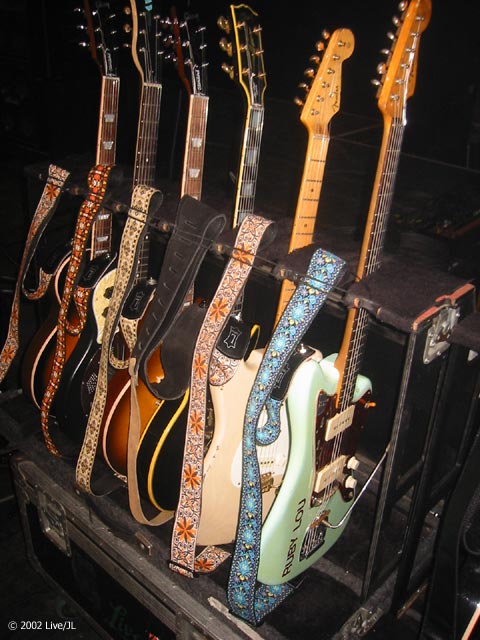 From front to back: 1.Ruby Lou - 60's Sea Foam Green Fender Jazzmaster, 2. Cream-colored Fender Stratocaster, 3. Black Gibson Les Paul ('59?), 4. Sunburst Gibson Les Paul Standard, 5. National Dobro, 6. Sunburst Les Paul.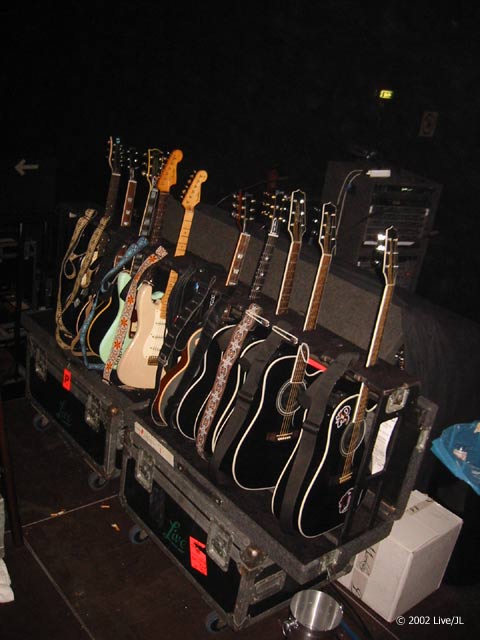 Front to Back
Ed's guitars: 1. Takamine Acoustic, 2. Takamine Acoustic, 3. Takamine Acoustic, 4. Gibson Les Paul, 5. Silver Sparkle Epiphone Gibson Les Paul (as played on Shit Towne)
Taylor's guitars: 6. Cream colored Fender Stratocaster, 7. '60's Sea Foam Green Fender Jazzmaster, 8. Gibson Les Paul, 9. Gibson Les Paul Custom, 10. National Dobro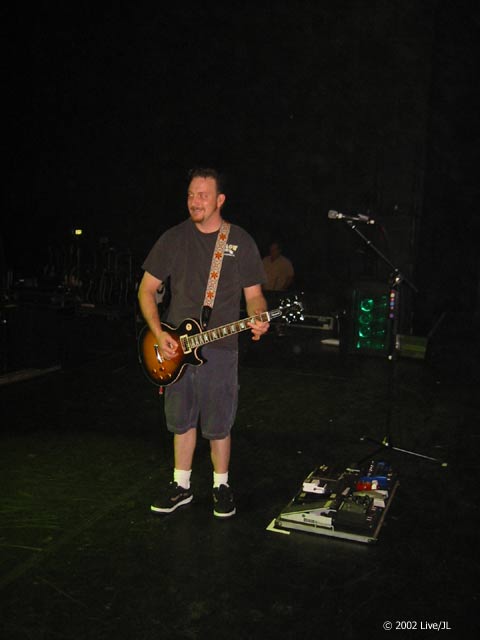 Guitar tech Zach with Sunburst Gibson Les Paul


Cream colored Fender Stratocaster



60's Fender Jazzmaster "Ruby Lou"


Orange Gibson Les Paul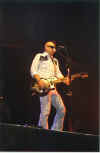 National Dobro


1959 Gibson Les Paul Custom