Guitar World
February 1997
The Secret of My Success
by Gary Graff
Guitarist Chad Taylor spills the beans about Live's third album, Secret Samadhi.
Chad Taylor of Live is in the midst of a reverie about the band's new album, Secret Samadhi (Radioactive), when a UPS man raps on the door of the guitarist's Lancaster, Pa., home. After signing for the package, Taylor returns, tearing open the box. "Just a couple of new Uni-Vibes," he says. "They're backups. I'm already moving into tour mode."
A moment later he's back in album mode, focusing on his own contributions to Live's third release. "I think this is one of those records that will put me on the map as a guitar player," he says. "Maybe they'll say I suck, but at least I'll be on the map.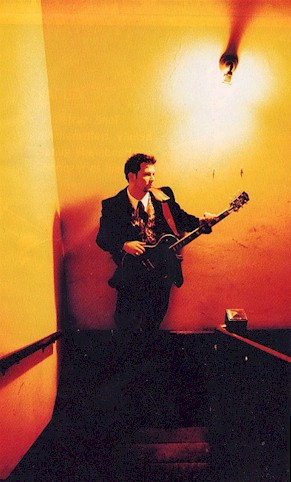 "There are guitars out the butt on this record," he continue. "I'm not one of those guys who likes to overdub or double and triple my parts. I like to stick with the original part, the rawness and sincerity that I don't think you can capture any other way. So, we went for the best absolute guitar sound we could find for a particular song. Whatever I played went down to tape, unaltered."
Taylor accounted for one other momentous development on Secret Samadhi.
"There are solos on this record," he notes. "That's a big change." Taylor reckons there were no solos on Mental Jewelry (Radioactive), Live's 1991 debut, and one one 1994's Throwing Copper, which sold nearly 10 million copies worldwide and placed Live high in the ranks of the Alternative Nation.
So, does massive popularity yield more guitar solos?
"I don't know how to explain that growth," Taylor, 26, says. "I think it has a lot to do with touring. I added a lot of solo sections to the songs while we were on the road. But I still think leads are goofy; a solo for a solo's sake doesn't do anything. But if a solo can take a song to another place, that works." Taylor also attributes his emergence as more of an up-front player on Secret Samadhi to the fact that he had grown "bored" with his instrument during the making of Throwing Copper. Concentrating on atmosphere and texture, it seems, can be a bit stultifying.
But the financial rewards reaped by Throwing Copper's tremendous success have Taylor the opportunity to expand his guitar collection - "from two to about 45." Besides hi new mainstay - a '62 Seafoam Green Fender Jazzmaster - he picked up some Les Pauls (a '54 Goldtop, a '56, and a '57 three-pickup Custom), a couple of '57 Stratocasters and even a vintage Gretsch Duo Jet that he only knows is "before '52."
As he futzed around with these dream instruments, Taylor says, he "fell in love with the guitar again. That really shows on this record; I took a lot of time to find tones that were over the top, the best tones I could come up with."
Taylor still remembers that when he was only 13, he wrote a letter to a major record label president - whose name he won't divulge - informing him that "we'll be one of the biggest bands in the world, so you should sign us now."
Mental Jewelry made Live a blip on the rock radar screen, and Throwing Copper - with it's passel of modern-rock smashes ("I alone," "Lightning Crashes" and "Selling the Drama") - made good on Taylor's adolescent boast. It sent the quartet flying around the world and rocketing up the charts. It gave Taylor and his mates a slow at Woodstock '94 and gave them the chance to flip the bird at Lollapalooza '95, which snubbed the band (though Lollapalooza execs claim they were the ones thumbing their noses at Live).
No matter, Throwing Copper made Live a big deal - and the band liked it; besides the vintage guitars, Taylor has developed a taste for fine wines, single malt Scotch (particularly the hard-to-find MacAllan) and the occasional cigar.
"I like the finer things in life," he explains without apology. "I think they're fun. Because we travel so much, you've got to find something to latch on to that you like, whether it's good food or wine or whatever."
Taking Throwing Copper on the road gave Live something else, too: a new perspective when they began writing Secret Samadhi.
"Secret Samadhi is less a record about who we were in the past than about who we've become," Taylor explains. "Throwing Copper was sort of about small town life in York, Pennsylvania, and about how we escaped that and were looking back on it.
"Now, it's hard for us to relate to the people who wrote Throwing Copper. We're immensely different now, leading different lifestyles. I don't think this record comes from a place like York; it comes from playing in front of 30,000 people and traveling around the world."
Live began working on Secret Samadhi (the title comes from a yoga term for spiritual realization) last February. The group first flew down to Jamaica and rented a plush mansion - "The closest thing we could find to what the Rolling Stones would rent," notes Taylor - for three weeks of songwriting. One song, "Freaks," was left over from the Throwing Copper sessions. A few others sprang to life during the final leg of Live's '95 world tour.
"I think the new material is closer to Mental Jewelry than Throwing Copper," Taylor says. "Throwing Copper was primarily about songwriting; we gave each other the best treatment we thought we could. This record is more about going back to the kind of 'vibey-ness' of Mental Jewelry - a little looser, more free-form and flowing."
"Lakini's Juice," a droning, orchestrated track that is the album's first single, is an obvious sonic departure for Live - and a track designed to send a message that the group wasn't interested in simply reprising Throwing Copper's successful song forms.
"For starters, it's the first song we every wrote we ever wrote that we open-tuned for," Taylor explains. "I've never written that way because every time I open-tuned my guitar I sounded like Keith Richards!
"It's not an immediate song; I've played the song for a handful of people, and the first thing they compared it to was Led Zeppelin's 'Kashmir.' But that's part of the reason we picked it for the first single. I mean, there are some more obvious hits, but this is one of those records where we took chances. We felt like, 'Hey, we've been fortunate enough to sell nine, 10 million records worldwide. Let's do what great bands should do - take the money, take the fame and do something that no one else would do.' This is a record that isn't afraid to just go for something."
When it came time to record those solos he's so proud of, Taylor says he took a basic "less is more" approach. "They have more to do with the sonic nature of the song than with the actual notes I'm playing," he says. "I'm the kind of guy who, if someone asked me to play a blues solo, I'd play one note and that's it, the whole way through the progression. That's what would sound best to me.
"I do most of my tonal changes using the tone knobs on the guitar itself. I try to use the guitar as it was meant to be used, rather than plugging into effects and stepping on a pedal and expecting the sound to change."
Whether Secret Samadhi vaults him into the guitar major leagues is irrelevant to Taylor; he's more concerned about how the band sounds as an ensemble. On the other hand, he admits, he won't mind if somebody notices that his playing has improved.
"Of course," he admits, "in my mind, I still think I suck. I meet a lot of players who I think can play better than me. But I think you can hear a certain heart and soul in what I do. I'm more of a finesse kind of guy - where my fingers go, where my mind's ear hears it, that's where I play. If you put a chord chart in front of me, I wouldn't have a clue where to start.
"And if you asked me to play a Jimi Hendrix lick, I'd just laugh at you. I never took to learning anyone else's stuff. I can only play Live songs."